KIDS ASK ABOUT RELATIONSHIPS
and this books gives some answers!
400+ Questions Kids Have About Relationships showcases real questions that Australian children ask. It offers some straight forward, down to earth answers for the kids of today, sourced from leading relationships and family counselling experts. It was designed and illustrated by Gaye Dell and written with assistance from the Interrelate School Services Team.
The questions were collected anonymously from children aged from 8 to 14 years and cover friends, sisters, brothers and teachers…but most were asked about the relationships they have with their Mums and Dads. So, while this book was written by, and for children, it will prove to be a valuable insight for parents as well.
emotions
attraction
bodies
teasing and bullying
 keeping safe in cyberspace
 other 'stuff'
It is supported by fun illustrations and some handwritten questions from children.
This book was created for kids and their parents, in the hope that it will be a resource to help with some of life's trickier questions.
First stop: Mum and Dad. Second stop 400+ Questions Kids Have About Relationships
Examples of kids questions:
Kid's Q: When your parents get divorced
what happens when you have stepmums or dads?
A: You begin to add to your family, and instead of one,
you will have two, living in different places.
Your Mum and Dad will always be your parents
even if they don't live with you all the time.
Kid's Q: When is the right time to kiss a person?
A: When you are absolutely sure that they want to kiss you back
Generally something will tell you when that time is right
…a special smile, a touch on your hand or even a sparkle in their eye
…you just have to make sure you are looking for the sign(s).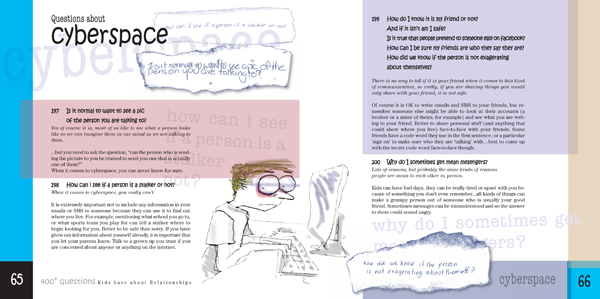 Kid's Q: Why do the other boys call me gay because I don't like football?
A: Because they are being mean. In our culture if you are a boy it is expected that you like to play sports like football, but where would we be if ALL boys thought that way? We would be a country with a pretty lop-sided culture. Great to have footballers, but we also need artists, writers, rock stars, etc.
Lots and lots of boys prefer not to play football so you are certainly not alone, try to ignore them and do what is fun for you, after all, you certainly don't have to play footy to be a success, ask Dick Smith or Kevin Rudd!
Kid's Q: How do I stop a teacher nagging?
A: By doing what s/he asks the first time.
After all, nagging is simply reminding someone over and over.
Do it the first time = no nagging!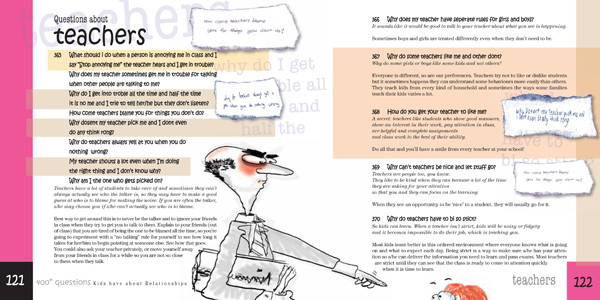 400+ Questions Kids have about Relationships has a glossary of terms and also a section where families can discuss, then record names of the 'trusted adults' in their childrens' lives.
The other books in the series are:
500+ Questions Kids have about Sex and 100+ Answers About Puberty.
© Interrelate Family Centres 2014
400+ Questions Kids have About Relationships
is displayed with permission from Interrelate Family Centres.
For sales and/or information regarding this resource,
please contact Interrelate Family Centres.